Sammy Cahn a Jimmy Van Heusen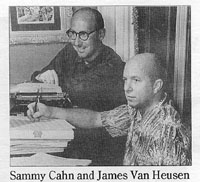 Slavné americké skladatelské duo, které mimojiné složilo znělku Ženatého se závazky, písničku Love and Marraige. Sammy Cahn (1913-1993) psal texty a Jimmy Van Heusen (1913-1990) skládal muziku.  Spolu vytvořili řadu nesmrtelných hitů - např. Only the lonely, Come flay with me, v roce 1955 napsali i Love and Marriage, kterou nazpíval Frank Sinatra.  Frank (přezdívaný "Ol´ blue eye) nazpíval první verzi této písničky pro společnost Capitol dne  15. srpna 1955 a píseň se stala záhy hitem. V roce 1965 však Frank nazpíval druhou verzi - pro společnost reprise records - a právě tuto verzi použili tvůrci Ženatého do znělky seriálu. Obě verze si můžete poslechnout na neoficiálním soundtracku Ženatého se závazky . Zde nabízím též MIDI verzi pianové verze Love and Marriage
článek o autorech písně "Love and Marriage"

Z novin New musical express ze dne 31.3.1961 přepsal Lukáš Kadlec
 

Welcome to songwriting aces - Sammy Cahn and Jimmy Van Heusen

Aspiring songwriters looking for tips on the art of writing hits should make a point of getting acquainted with the Academy Award-winning Americans Jimmy Van Heusen and Sammy Cahn. For this fantastically successful twosome- who are due in Britain next Thursday - have written enough hits to fill over a dozen LPs!

New York-born Jimmy, a distinguished pianist and orchestra leader as well as composer and former violinist-dance band leader Sammy (also a New Yorker) began writing together in 1954 - after both had achieved fame individually on an international scale.

Purpose of their trip here is to write songs for the forthcoming Bing Crosby - Bob Hope film "Road to Hong Kong".

Jimmy and Sammy (they were last in Britain in 1957) are currently engaged in the writing of a new musical based on the adventures of the famous fictial "gentleman burglar" Raffles.

In 1959 the team won an "Oscar" for their song "High hopes", which Frank Sinatra performed in the film "Hole in the head"-

Another of their compositions "The second time around" (Sinatra´s current U.S. hit - and the first single release on his own Reprise label in the States) has been nominated for a similar award this year.

Jimmy write his first song "Harlem Hospitality" for the "Cotton Club Parade" show in 1932, since when he has penned over 300 published songs, many of the evergreen standards.

A long association with lyricts Johnny Burke produced the Oscar-winning "Swinging on a star", as well as such other hits as "But beautiful", "Aren´t you glad you´re you", "Imagination", and "Moonlight becomes you".

Sammy Cahn, who´s primarily a lyricts, turned to songwriting many years ago when his dance band´s theme tune "Rhytm is our business" was recorded by the late great Jimmy Lunceford´s Orchestra.

In the late thirties he hit the high-spot in really big way when he combined with Saul Chaplin to write two perennial favourites - "Bei mir bist du schon" and "Shoe shine boy".

His best-known song is probably the title tune form the film "Three Coins In The Fountain" (one of Frank Sinatra´s many hits), which won an Oscar award.

Since teaming, Cahn and Van Heusen have produced such songs as the already mentioned "High hopes", "All the way" (Which Sinatra sang in "The Joker Is Wild") and "Love and Marriage" (which won the U.S.-TV Emmy and Christopher awards)

K.G.

 
---